Katalin Karikó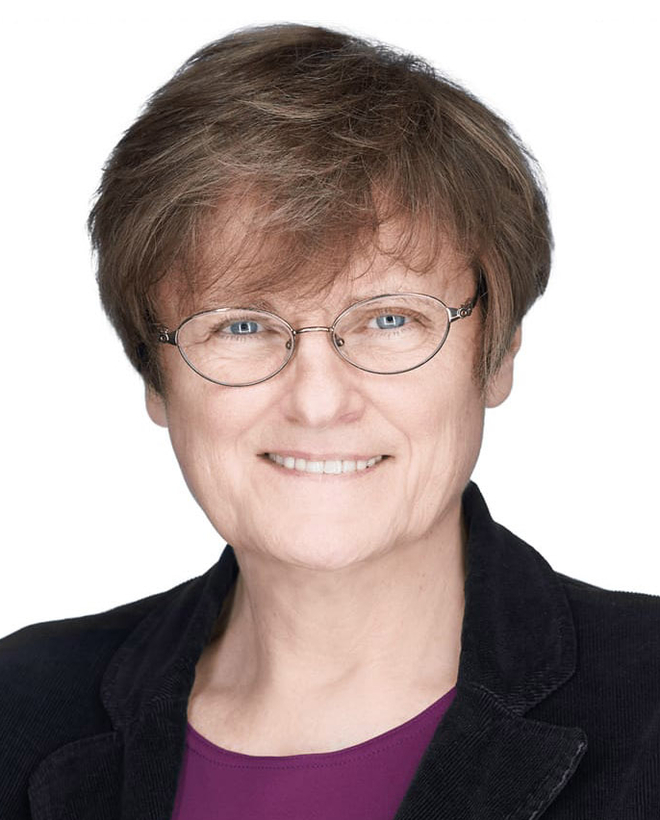 Katalin Karikó
Doctor of Science
In awarding the 2022 honorary degrees, President Peter Salovey read the following personalized citation.
Resilient in your pursuit to expand the boundaries of knowledge, you stood unwavering against challenges and skepticism. After learning of the mechanisms of messenger RNA, you knew that its capacities could be channeled for the greater good. You stayed the course, and your perseverance has transformed a beleaguered world. In appreciation for your life-saving work, Yale is honored to bestow upon you this Doctor of Science degree.
Katalin Karikó is an acclaimed Hungarian-American biochemist whose perseverance in the face of setbacks paved the way for the Pfizer/BioNTech and Moderna vaccines now being administered to stem the COVID-19 pandemic. Together with fellow honoree Drew Weissman, she conducted groundbreaking research to identify the additional molecule, pseudouridine, that enables therapeutic use of messenger RNA (mRNA). Their discovery has far-reaching implications for potential treatment of infectious diseases, autoimmune disorders, cancers, and other debilitating conditions. Karikó is the senior vice president of BioNTech SE; a professor at the University of Szeged, Hungary; and adjunct professor at the University of Pennsylvania's Perelman School of Medicine.
Growing up in a rural Hungarian town where her mother was a bookkeeper and her father a butcher, Karikó found early scientific inspiration in the plants and animals around her, and by her teens she was one of the top biology students in the country. In high school, a book presented to her by a teacher—Hungarian endocrinologist Hans Selye's The Stress of Life—became a formative influence on her approach to life. Selye's counsel that "adopting the right attitude can convert a negative stress into a positive one" guided Karikó's journey as a scientist, reminding her that failures could be reframed as an opportunity to work harder, be more creative, and perform better.
"Life is like the path of scientific discoveries…never a straight line with twists and turns at every juncture. Work hard and stay on track no matter how winding that road may be, it will be the most rewarding journey you never expected."
That mindset proved pivotal as Karikó's education advanced. It was at the University of Szeged—where she completed her bachelor of science (in biology) in 1978 and her Ph.D. (in biochemistry) four years later—that she first learned about the recently discovered existence of mRNA, a molecule that tells cells how to behave. She recognized the potential to harness that capacity; over many years her interest in mRNA persisted, even as scientists had not yet found ways to manufacture the molecule and fellow researchers remained skeptical of its applications. In the 1980s she moved to the United States in search of research opportunities, finding postdoctoral work first at Temple University and later at the University of Pennsylvania. In 1998, as a senior research investigator in Penn's Department of Neurosurgery, she first met Drew Weissman and soon joined his research lab. In 2005, they published the seminal article, "Suppression of RNA recognition by Toll-like receptors: the impact of nucleoside modification and the evolutionary origin of RNA," and in 2006, they co-founded RNARx, a company dedicated to developing nucleoside-modified mRNA for therapy. Their patent on nucleoside-modified uridines of mRNA (one of fourteen U.S. patents that Karikó holds) was the foundation for the vaccines that received FDA approval first for emergency use in late 2020 and subsequently for regular use in 2021.
For her achievements, Karikó has received many prestigious awards, including the Swiss Academy of Pharmaceutical Sciences' Reichstein Medal, Spain's Princess Asturias Award, and the Lasker-DeBakey Clinical Medical Research Award (all in 2021), and the Vilcek Prize for Excellence in Biotechnology, Germany's Paul Ehrlich and Ludwig Darmstaedter Prize, and the Breakthrough Prize (all in 2022). In 2021 TIME magazine named her one of its 100 most influential people of the year. Last November she delivered the Hawking Fellowship lecture at the University of Cambridge.
Karikó and her husband, Béla Francia, live in Pennsylvania. Their daughter, Susan Francia, is an elite rower who has won two Olympic gold medals and five world championships.
Photographs courtesy of Chris Boland (top) and Vilcek Foundation, M. Hamilton Visuals (inset).