Drew Weissman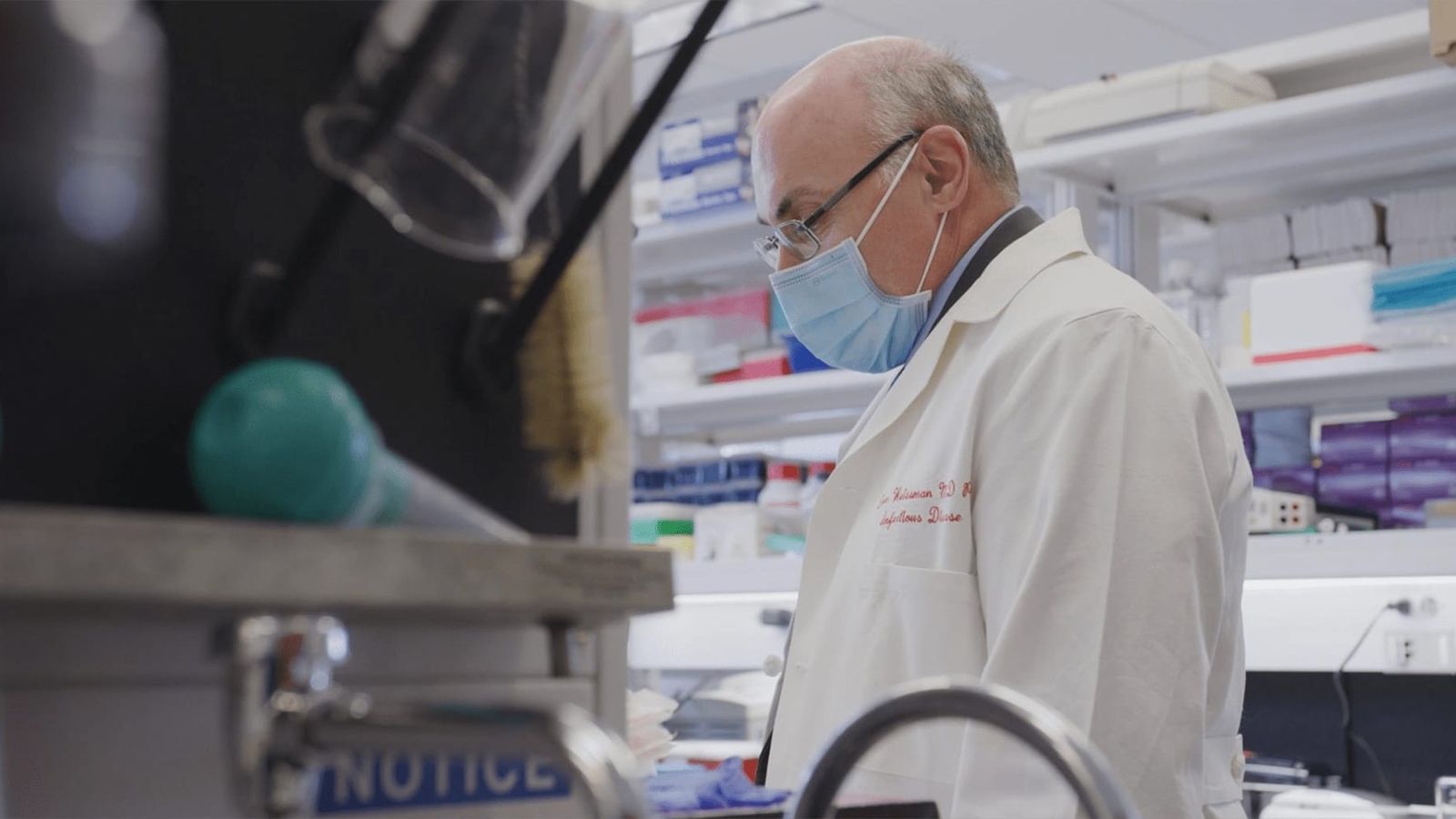 Drew Weissman
Doctor of Science
In awarding the 2022 honorary degrees, President Peter Salovey read the following personalized citation.
Pioneering scientist, doctor of distinction: your efforts to unlock the potential of the human immune system have reshaped our lives and helped us to envision a post-pandemic future. Your discoveries made it possible to enlist messenger RNA in vaccine form, teaching our bodies how to defend themselves against infection—and laying the foundation for medical innovations still to come. With gratitude for your groundbreaking research, Yale has the pleasure of conferring on you this Doctor of Science degree.
Drew Weissman is a physician-scientist and pioneer in the science of immunology whose decades of research enabled development of the Pfizer/BioNTech and Moderna vaccines now being administered to stem the COVID-19 pandemic. Together with fellow honoree Katalin Karikó, he conducted groundbreaking research to identify the additional molecule, pseudouridine, that enables therapeutic use of messenger RNA (mRNA). Their discovery has far-reaching implications for potential treatment of infectious diseases, autoimmune disorders, cancers, and other debilitating conditions. A longtime faculty member at the University of Pennsylvania, Weissman is the inaugural Roberts Family Professor in Vaccine Research, a professor in the Department of Medicine, director of the Penn Institute for RNA Innovation, and director of vaccine research in the Infectious Diseases Division at the university's Perelman School of Medicine.
Weissman grew up in Lexington, Massachusetts, where he inherited a love of building and creating from his engineer father and an interest in science from his mother, a dental hygienist. He took the most challenging science classes he could find at his high school and went on to earn bachelor's and master's degrees in biochemistry and enzymology from Brandeis University before completing his M.D. and Ph.D. (in immunology and microbiology) at Boston University. Following a residency at Beth Israel Hospital in Boston, he took a fellowship at the National Institutes of Health, where he worked with Dr. Anthony Fauci (now chief medical advisor to the president); today he credits Fauci as a formative influence on his interest in research.
"Persistence, commitment, and belief in what you are doing are critical to achieving your goals."
Weissman joined the University of Pennsylvania faculty as an assistant professor in the Division of Infectious Disease in 1997. In 2005 he was promoted to associate professor, and in 2012 he became a full professor. His major contributions to the scientific field include the identification of the mechanism by which RNA activates the innate immune system and the discovery that naturally occurring modified nucleosides were the mechanism used by the cell to distinguish foreign RNA from self RNA. In 1998 began collaborating with Katalin Karikó; in 2005, they published the seminal article, "Suppression of RNA recognition by Toll-like receptors: the impact of nucleoside modification and the evolutionary origin of RNA"; and in 2006, they co-founded RNARx, a company dedicated to developing nucleoside-modified mRNA for therapy. Their patent on nucleoside-modified uridines of mRNA was the foundation for the vaccines that received FDA approval first for emergency use in late 2020 and subsequently for regular use in 2021.
Weissman's work has resulted in the publication of more than two hundred papers, and he holds many patents, including those that describe the modifications required to make mRNA suitable for vaccines and other therapies. He and his lab team continue to conduct basic science research to understand and develop new nucleoside-modified mRNA platforms. For his transformative accomplishments as a researcher, he has received many accolades and honors, including the 50th Rosenstiel Award for Distinguished Work in Medical Science from Brandeis University (2020), the 2021 Lasker~DeBakey Clinical Medical Research Award, the 2022 Japan Prize, the Princess Asturias Award (2021), and the Breakthrough Prize in Life Sciences (2022). In 2021 he was named a TIME magazine Hero of the Year.
Weissman and his wife, Mary Ellen, a child psychologist, have two daughters, Rachel and Allison.
Photographs courtesy of Drew Weissman.