James E. Clyburn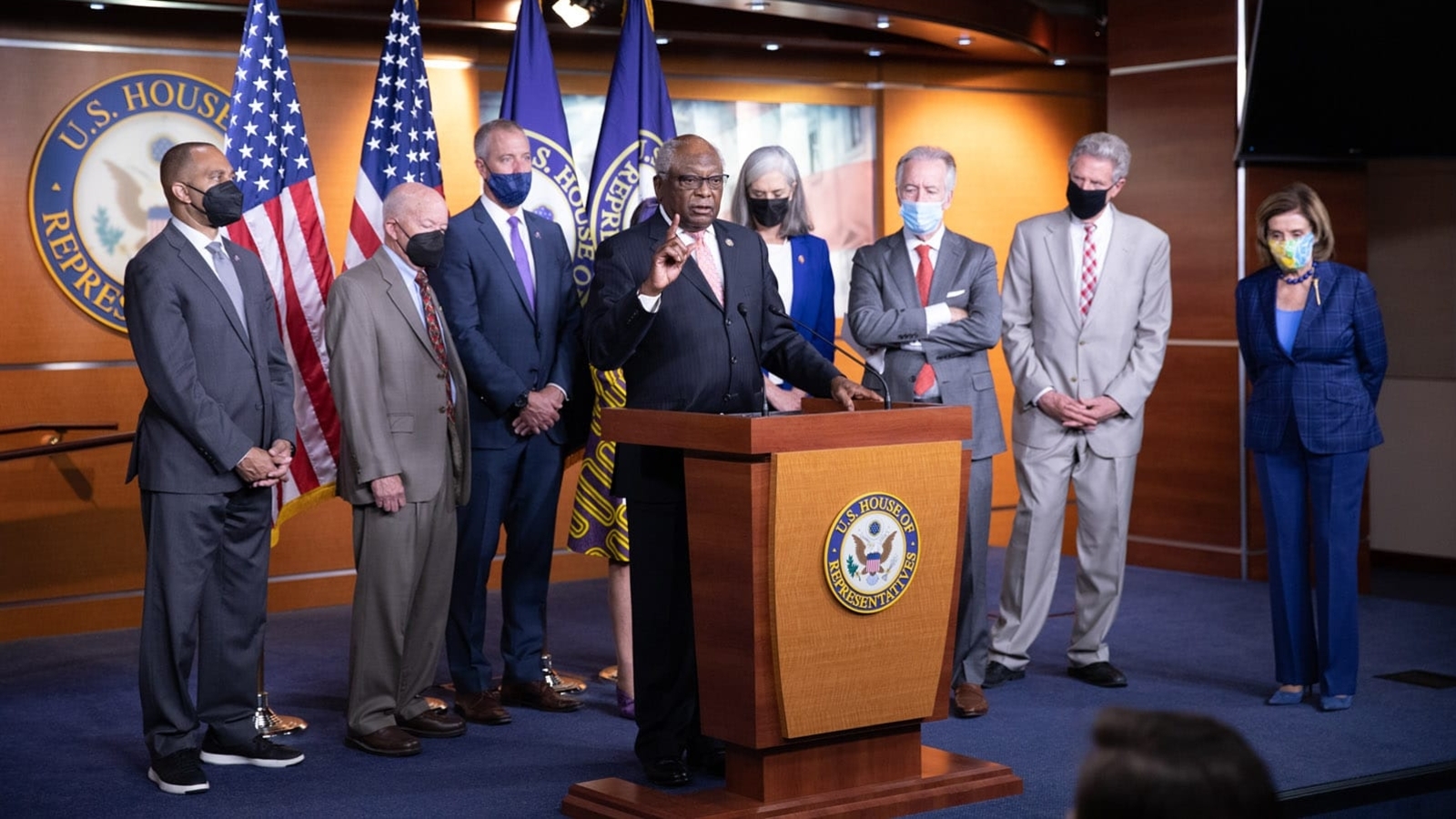 James E. Clyburn
Doctor of Humane Letters
In awarding the 2022 honorary degrees, President Peter Salovey read the following personalized citation.
Champion of civil rights and preserver of our national history, you galvanized your generation and have inspired those that followed. Beginning in your early years as a student activist, you have been a catalyst for change, steadfast in your dedication to bettering the lives of your fellow citizens. You have worn many hats: educator, advisor, legislator, role model. Hero and humanist, we welcome you to the Yale family with this degree of Doctor of Humane Letters.
The Honorable James E. Clyburn, the majority whip in the United States House of Representatives, has represented South Carolina's sixth congressional district for nearly three decades. With a long record of championing rural and economic development, supporting historic preservation and restoration, and promoting education, civil and voting rights, he has cemented his place as one of the country's most distinguished public servants.
Clyburn was born in Sumter, South Carolina, the oldest son of a minister and a beautician. His parents instilled in him a deep appreciation for family, faith, and public service, and from an early age he was active as a youth leader and civil rights advocate. At twelve, he was elected president of his local NAACP youth chapter, and as an undergraduate at South Carolina State, he organized sit-ins, marches, and other civil rights demonstrations. He completed his B.S. in history in 1962.
After graduating from college, Clyburn began his career as a social studies teacher in Charleston. He then worked variously as an employment counselor, a director of youth programs, and leader of the South Carolina Farm Workers Commission. In 1971, he became the first African American advisor to a governor of South Carolina when he joined the staff of Governor John C. West, and from 1974 to 1992 he served as the state's commissioner of human affairs. Ultimately Clyburn became the state's first African American Congressman in nearly a century when he was elected U.S. Representative for South Carolina's sixth district in November 1992. He was elected co-president of his congressional freshman class and quickly rose through the ranks to chair the Congressional Black Caucus and, later, the House Democratic Caucus. He served as majority whip from 2007 to 2011, as assistant democratic leader from 2011 to 2019, and again as majority whip (the third-ranking Democrat) from 2019 to the present. Since 2020, Clyburn has chaired the Select Subcommittee on the Coronavirus Crisis, which is investigating the effectiveness, efficiency, and equity of the U.S. response to the pandemic.
"You have a unique set of experiences. So do the people you will encounter throughout life. Your success will be determined by your ability to reconcile and respect those differences and treat others as you wish to be treated."
Widely recognized as a hero of democracy, Clyburn developed the 10-20-30 persistent poverty formula for federal funding, which allocates at least 10 percent of grant and loan funds to counties that have had poverty rates of at least 20 percent over the past thirty years. He has ensured successful House passage and enactment of many significant pieces of legislation, including the American Recovery and Reinvestment Act of 2009, the Patient Protection and Affordable Care Act, the Dodd-Frank Wall Street Reform and Consumer Protection Act, the Don't Ask, Don't Tell Repeal Act of 2010, the American Rescue Plan Act of 2021, and the Infrastructure Investment and Jobs Act.
Recognizing his leadership and service, Clyburn has received more than twenty honorary degrees; a Lifetime Achievement Award from Omega Psi Phi Fraternity, Inc. in 2006; the LBJ Liberty & Justice for All Award in 2015; and the March on Washington Film Festival's John Robert Lewis Lifetime Legacy Award in 2021. The Arnold School of Public Health at the University of South Carolina hosts the James E. Clyburn Health Disparities Lecture Series, now in its thirteenth year, honoring his work to reduce and eliminate health disparities.
Clyburn and his late wife, Emily England Clyburn, met as student protesters in an Orangeburg, South Carolina, jail in 1960 after he was arrested as an organizer of one of the largest student demonstrations in the civil rights movement. The encounter began their fifty-eight-year marriage. He is the proud father of three daughters and four grandchildren.
Photographs courtesy of Office of the House Majority Whip James E. Clyburn.